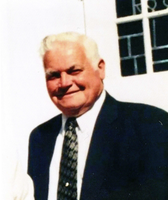 Dennis Mitchell
Dennis Mitchell of Honesdale passed away on Thursday, August 24, 2017. He is survived by his wife , Eileen Burke Mitchell.
Dennis was born in Ireland on May 18, 1931 the son of the late James and Mariah McLoughlin Mitchell.
He worked as a stationary engineer for the Board of Education, City of New York and attended St. John's Catholic Church in Honesdale. Dennis was an active member of the Emerald Society in New York City and an active participant in the St. Patrick's Day Parade in New York City.
In addition to his wife he is survived by a son, James Mitchell and his wife Staci of Staten Island, NY; three daughters, Bernadette Mitchell of Staten Island, NY, Denise and Seamus Burke of Manhattan, and Joan and John Hogan of SC; two brothers, Benedict Mitchell of Paramus and Tony Mitchell of Australia; ten grandchildren one great grandchild.
A funeral service will be held on Monday, August 28, 2017 from the Arthur A. Bryant Funeral Home, 1228 North Main Street, Honesdale with Mass of Christian Burial at 10:00 in St. Mary Magdalene's Roman Catholic Church , Honesdale. Interment will be in St. Mary's Cemetery, Honesdale. Friends will be received for visitation in the funeral home on Saturday, August 26, 2017 from 2- 4 pm and Sunday, August 27, 2017 from 2-4 pm.
In lieu of flowers the family requests memorial contributions be sent to St. Jude Children's Hospital, 262 Danny Thomas Place, Memphis, Tennessee, United States